Five amazing free events in Vienna in 2016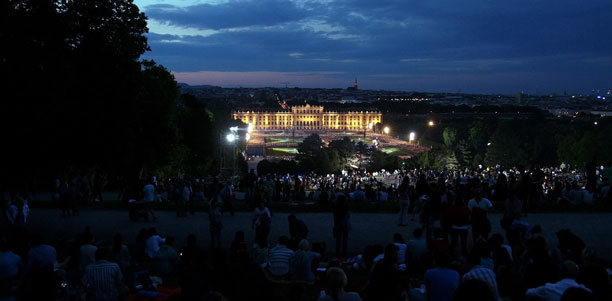 Vienna is a great city to live in if you enjoy big scale, free events. Particularly during the summer months, there are plenty of free open air events to visit, where you'll meet lots of locals as well as tourists, expats and other international guests. From live music to open air cinema, Vienna has quite a few good options to offer.
#1 Donauinselfest – June 24th-26th
The biggest free open air event in Austria sees around half a million visitors each day during its run and is a great attraction during Vienna's early summer. There are several stages with live music starting from around noon until late into the night. All tastes are being catered for, there are plenty of local as well as international acts performing. You'll usually find comedy acts as well, and there even is a stage for kid's entertainment in the afternoon. The Donauinsel is an artificially created island in the middle of the Danube, which is a popular place of refuge from the heat for the Viennese people in the summer months. During this open air festival the island is usually packed with people, so if you're not that much into crowds, it is a worthwhile place to visit on different summer weekends.
#2 Popfest Wien – July 28th- 31th
Vienna's Popfest is a relatively young addition to the range of free music festivals in the city. Acts are mostly local with some international ones being signed in addition. The festival takes place at Karlsplatz, a central location in Vienna's inner city. The music genres represented range from indie rock to singer-songwriter acoustic concerts and acts with a strong local flavor. The whole festival is free and usually starts with live open air acts and ends with dancing to a DJ set indoors well into the morning hours.
#3 Maifest Wien – May 1st
The first of May is a public holiday ("Tag der Arbeit") in Austria and usually sees people celebrating all around the country. In Vienna, this day is traditionally celebrated big time with a festival at the Prater, Vienna's famed public recreation area, featuring a wide park area as well as all kinds of rides and foods – including the famous landmark Ferris wheel. There usually are live bands on multiple stages, from local to international acts of various genres.
#4 Sommerkino am Rathausplatz 2016 – July & August
The square in front of Vienna's town hall ("Rathausplatz") is a popular location throughout the year, hosting different events for the public to enjoy. In the months of July and August, there is a big screen wall erected there, showing movies and documentaries during the evening hours throughout the summer. It's free and you can check the schedule upfront on the website.
#5 Sommernachtskonzert der Wiener Philharmoniker – May 26th
Vienna's world-famous philharmonic orchestra hosts a free concert every summer at Schloss Schönbrunn, one of Vienna's most beautiful and most iconic sights. This year, the Wiener Philharmoniker will be led by conductor Semyon Bychkov, for a night of classical music, which never disappoints. With this being one of the few chances to witness the orchestra live and for free, places usually fill up very quickly, so make sure to be there early enough.
---
Image: CC BY-SA 3.0 Manfred Werner