Amazing spots for hiking day trips from Vienna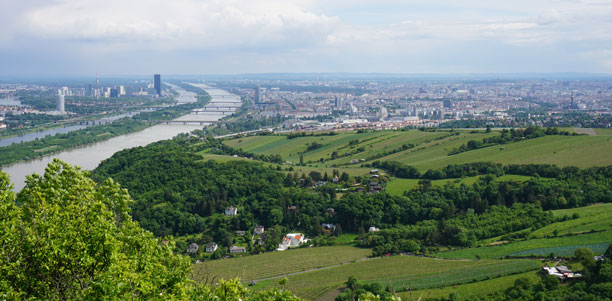 One of the great things about Vienna is how easy it is to escape the heat of the city in the summer, simply by taking on one of the amazing hiking trips in the areas surrounding Vienna. It usually takes just a short drive from the city to get into the mountains and with hiking being a widespread passion among Austrians, there is a massive variety of paths for all fitness levels available. Check out this list of hiking destinations which can all easily be done as day trips from the city!
Rax – Reichenau, Lower Austria
Part of Vienna's local mountains ("Wiener Hausberge"), the Rax is a beautiful mountain range situated at the border between Lower Austria and Styria, which is easily accessible by public transport (train) and even offers an aerial ropeway taking you up to 1546 meters above sea level. There are several hiking tracks to go on, suited for varying levels of fitness and differing in duration. You will find plenty of options, whether you are looking for a challenging hike or more after a leisurely walk. The aerial ropeway operates throughout the year. On a clear day during summer time, you'll find yourself strolling through a beautiful scenic mountain range, while you can explore the natural landscape in snowshoes during the winter.
Semmering – Lower Austria
A popular skiing destination and climatic health resort, Semmering in Lower Austria also makes a great starting point for various hiking tours around the northern limestone alps. It's also a good spot for some mountain biking and in the winter months, skiing and snowboarding are the dominating sports. The routes available provide a good choice of tracks for both long and short trips and some of them give the option of getting an easy start by taking a cable car ride uphill. If you choose the Austrian railways to go there by train, you'll be able to experience a ride on the Semmering railway, which was the first mountain railway with a standard gauge track built in Europe and is on the list of UNESCO World Heritage sites.
Kahlenberg – Wienerwald, Vienna
Located in Vienna's 19th district, this hill is a popular destination for Sunday hiking trips for the Viennese people with a long-standing tradition. On a clear day, you'll be treated with a beautiful, scenic view of the city. The Kahlenberg is part of the Vienna Woods (Wienerwald), a popular recreation area which reaches from the city all the way into Lower Austria. The track starts off from the final tramway stop in Nußdorf in the 19th district and takes about 4 hours with possibilities to stop for lunch along the way.
Schneeberg – Puchberg, Lower Austria
Another one of Vienna's local mountains, the Schneeberg ("snow mountain") is the highest mountain in Lower Austria (2.076m) and can be readily seen from parts of Vienna on a clear day. There is a rack-and-pinion railway – the Schneeberg railway – going up all the way to a height of 1.800m, cutting down the hike to the summit to about two hours. Options for hiking tracks are plenty and there are huts providing freshly cooked food along the way, as well as options for overnight stays, if you intend to go on a multi-day hiking trip.
Here are a few helpful links for your trip planning:
Hiking path to the Kahlenberg on the official website of the city of Vienna.
Website of the Rax Aerial Ropeway
English information on hiking in Semmering
English website for Puchberg/Schneeberg