Hiking through Vienna's vineyards – Wiener Weinwandertag on the first weekend of October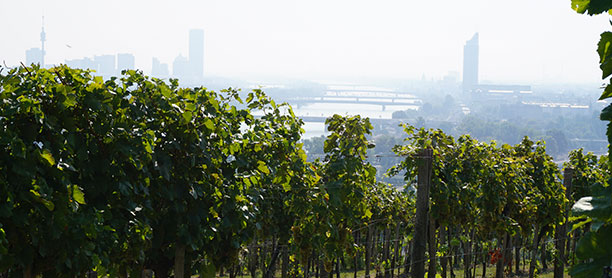 Going into its tenth iteration, the Wiener Weinwandertag ("Viennese vineyard field day") has become a popular event kicking off the fall season. Along several hiking tracks, ranging from 4.5 to 10.8 kilometers, the Viennese winegrowers await visitors, ready to showcase this season's culinary specialties. If you are planning to visit with your family or just don't feel like walking too far between tastings, there are several shorter routes to choose from as well for an easy hike around the hills and vineyards surrounding Vienna.
Vienna is the only capital in the world where viticulture – the process of growing and producing wine – actually constitutes a significant local industry. At the Weingut Cobenzl, a vineyard which is operated by the city of Vienna, several different types of wine are being grown on an area spanning over 60 hectares. Among them, internationally popular grape varieties like Riesling, Pinot blanc or Grüner Veltliner, which have been awarded with national and international honors and are readily available for tastings so visitors can reach their individual verdicts.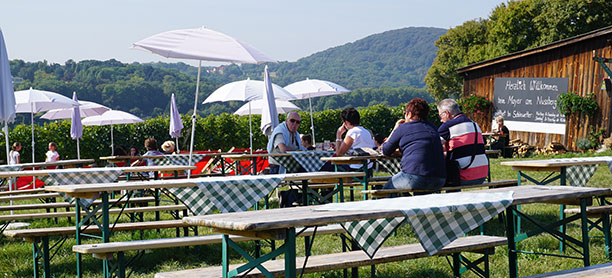 A broad variety of destinations to explore in the autumn sun
Ottakring:
There are several routes you can embark on in Vienna's 16th district Ottakring, with plenty of possibilities to stop for a glass of wine or grape juice along the way. Take your start from the bus stops for lines 46A or 46B (choose either Kempfengerngasse or Wilhelminenberg) and follow the track around Schloss Wilhelminenberg, a Neoempire style castle built in the early 20th century. The track will provide you with a great view over the city and lead you through several vineyards along the way.
Neustift am Walde to Nußdorf:
Another track leads from Neustift am Walde in the 18th district through the vineyards at the Cobenzl to Grinzing and finally Nußdorf in Vienna's 19th district. There are several points from which you can enter the track. You can take the tram 38 to the final station at Grinzing if you feel like taking on a longer hike with a great view over the city and the vineyards. If you just want to take a short, leisurely walk around the Cobenzl area, take the bus 38A which stops at the vineyard. Another possibility is to take the bus 39A to Sievering, where you'll be able to enter into another easy track, which is perfectly suited for walking with small kids and a stroller.
Strebersdorf to Stammersdorf:
The third major track leads from Strebersdorf to Stammersdorf in Vienna's 21st district. At a length of over 10 kilometers, the track offers a few entrance points which allow you to pick a dose of walking according to your liking. You can take the tram 26 to Strebersdorf (get out at Alois-Heidel-Park) and follow the 5 kilometer track to Magdalenenhof, passing through several vineyards and restaurants along the way. The route between Magdalenenhof and Senderstraße – where you'll encounter yet another vineyard with an accompanying restaurant – is a shorter walk with two paths two choose from, one of which is easily accessible even with a stroller. There's a parking lot at the area near Senderstraße, so you can easily get there by car.
Check out the subpage for the Wiener Weinwandertag at the city of Vienna website for more information and detailed maps for the various tracks:
https://www.wien.gv.at/umwelt/natuerlich/weinwandertag.html