Local Train Stations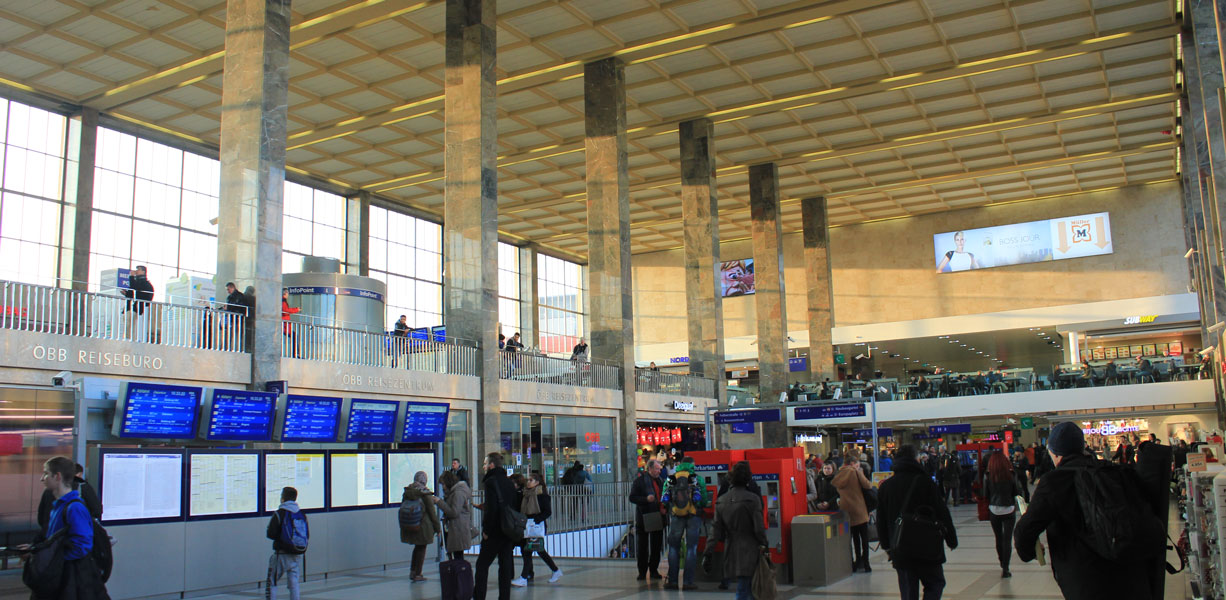 Austrian Federal Railroads (ÖBB) offer excellent railroad service to all major towns of the country and also direct connections with all major cities in Europe. Trains are well maintained and fares are reasonable.
Note!
You might want to check out the ÖBB VORTEILScards, which give you up to 50% discounts on train tickets. If you are under 26 years old you only pay 19 euros for a full year, otherwise it's 99 euros. They also have special offers for seniors and family cards. Either way, if you plan on travelling a bit, the card pays for itself after three or four trips.
The Westbahn is a small private train company, which offers hourly rides from Vienna Westbahnhof to Salzburg, passing through Linz. The fares are slightly lower, but the trains a bit slower than ÖBB's.
Hauptbahnhof
(Main Station)
can be reached by U-1
Tramlines D, O and 18
as well as with the buses 13A and 69A
Local and international trainservice to nearly all destinations
Westbahnhof
(West Train Station)
can be reached by U6 and U3
and Trams 5, 6, 9, 18, 52, 58
Starting point of the Westbahn, connecting Vienna with Western Austria
and destinations in Germany and Switzerland, but also to Hungary an farther East.
Wien Mitte
(Central Station)
reachable by U3 and U4
as well as bus line 74a
City Airport Train starts here
Mostly local trains and services to Czech border towns.
Wien Praterstern
(formerly North Train Station)
can be reached by U1 and U2,
Tram lines O and 5 and
Bus lines 5B, 80A and 82A.
Local train service and Eurocity-lines to
Prague and the Czech Rebuplic.
Franz-Josef Bahnhof
connetced via Tram lines D, 5 and 33.
Offers mostly local train service and connections
to the Czech border regions.