Nerd culture in Vienna – amazing places to treat your inner nerd
Nerd culture is booming all over the world and with Pokémon Go launching in Austria, you can actually see the numbers quite literally on the streets these days. Gamers, cosplayers, Anime, Manga and comic aficionados are no longer a rare species; the communities are thriving and a major economic catalyst for many industries. Vienna is the place in Austria where trends get picked up earliest and become tangible quite quickly, so at this point in time, the list of hotspots for the passionately geeky souls out there is already quite impressive. Here are a few of our picks:
Vrei – Virtual Reality Lounge
Over the past few years, virtual reality devices have gotten better and more suitable for casual use. While more games and apps become available, which make great use of the technology, owning the actual hardware still can be a costly affair. Vrei, a concept virtual reality bar located in Vienna's 7th district, is a smart answer to that issue by providing a casual space where you can check out different devices and demos while also enjoying a drink and mingling with other curious tech enthusiasts.
Respawn –  eSports Bar
In recent years we have seen the rise of a more and more expanding scene of professional video gaming. So called eSports (electronic Sports) are now organized in a dedicated league, the Major League Gaming, or in short MLG. Events hosted by this league often fill stadiums with gaming enthusiast and are watched by millions through live streaming channels. Responding to this trend Vienna now has its first own space for all eSports fans. The Respawn is located just next to the U6 station Nussdorferstraße, underneath the subway tracks. On two floors you can either watch daily streams of major eSports events or use one of the ten high end PC-stations provided, to engage in games yourself. The location also hosts its own local tournaments on weekly bases.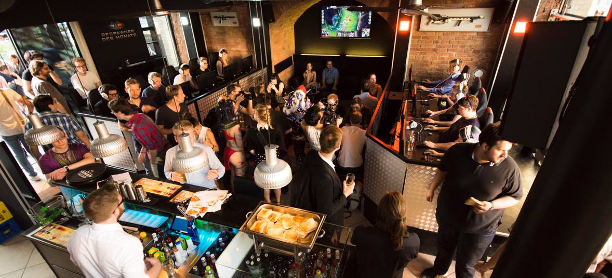 Metalab – open hacker space
Metalab is a long-standing institution in Vienna and has served as a home base for many amazingly creative tech projects. Located near the Rathaus (Vienna's town hall), you'll find an open hacker space for creative people, equipped with cool things like a laser cutter, 3D printers, photolab equipment and more. If you like tinkering with things, both physical and non-physical, you'll likely find a group of like-minded individuals there. Metalab has been operating since 2006 and is run as a non-profit, independent entity without political or financial affiliation.
https://metalab.at/wiki/English
SUBOTRON –retro gaming store
SUBOTRON, a stylish retro gaming store operating in the MuseumsQuartier in the 7th district, serves as a shop and meeting point for people interested in the history of digital games. With their series of lectures and workshops labeled "pro games", SUBOTRON runs a line of events targeted at people with an interest in the professional practice of game development, aiming to establish a discourse between developers, researchers and fans.
Runch! – comic shop
Comic book stores are notoriously associated with the nerd community and while super heroes have finally made their way into the cultural mainstream, comic stores still make a formidable meeting ground for people who enjoy comic books, action figures, Anime & Manga or trading cards. "Runch!"- another nerdy hotspot in the 7th district – is one of Vienna's biggest comic book stores and has built up quite a reputation over the years.
Plus, there are two big events are on the horizon still for 2018!
Game City – Vienna's video game trade fair – 19th to 21st Oct 2018, Rathaus
The Game City at the Rathaus is celebrating its 12th anniversary this year and has grown into a respectable, internationally recognized event since its beginning. Publishers are showcasing their upcoming games; there are e-sport competitions and a series of lectures on game development and gaming culture at the accompanying conference called F.R.O.G. (Future and Reality of Gaming). The convention has seen a rising number of visitors over the years, so be sure to arrive early and set aside a bit of time to wait in line.
Vienna Comic Con – 17th and 18th Nov 2018, Messe Wien
The name "Comic Con" is synonymous with nerd culture around the world and usually entails fun panel discussions with cool guests, amazing cosplayers and an intense look at the latest novelties from the world of entertainment. 2018 marks the fourth time this event is held in Vienna and being set in the Messe Wien Exhibition & Congress Centre at the original site of the 1873 Vienna World Fair, the event surely won't disappoint.