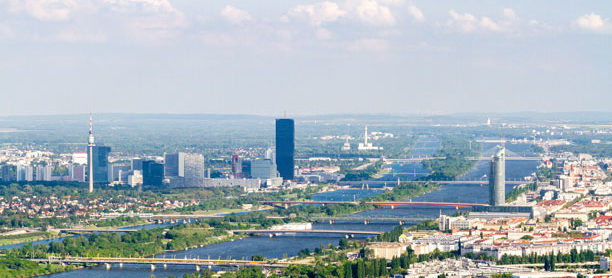 Summer without AC in Vienna
Vienna is famous for cultural events, imperial sights, coffee houses, cosy Heurigen and all the beautiful baroque buildings that give the city its charm.
On summer days, however, all these things can often hardly be enjoyed. Anybody who has ever visited Vienna in summer knows that an extreme heat can occur at this time of year. Temperatures up to 35° C (95 °F) and more are not rare in Vienna in June, July and August.
Those who come to the city as expats or tourists will notice that despite of these temperatures, air condition is not very common in Vienna. While in the USA, Japan or southern European countries, each shop, each coffee and practically each private house has an AC and office buildings without a central climate controll are unthinkable, in Vienna, only the bigger shops have an AC.
There are several reasons for this. If you compare the typical house in the US with Austrian houses, you will find the first reason why air condition is not that common in Vienna: American buildings are often made of plywood and plasterboard, while Austrian houses are built of bricks and stones. Especially the thick stone walls of the old apartment buildings in the city keep the rooms cool even during long periods of summer heat.
Also, unlike in Japan for example, the heat in Austria is usually a dry heat that is much easier to bear than a humid sultriness. Despite the hot continental summers, one must also remember that Austria is also a country where it can get very cold in winter. Therefore, traditionally a well functioning heating system is more important to the Austrians.
Specially in Vienna there is also the fact that for the installation of air conditioners a permission is necessary, whereby in case of old houses, reasons of cultural heritage management speak against the retrofitting.
Ways to Escape the Heat
When it gets too hot in summer, and even the nights start to heat up to a point where opening the windows does not change the temperature inside, Vienna offers many chilly places for you to cool down a little.
You could go swimming at the Danube or in one of the many public outdoor swimming pools. Especially the Donauinsel (= Danube Island) and the old Danube are gorgeous places to go for a swim, relax in the sun or lie in the shadow of a tree.
You can find some shade in a public park also – Vienna has more parks and green areas than most other similar sized cities, so you will always find a comfortable place under some tree.
As the Vienna Woods (German: Wienerwald), the former royal hunting grounds from the 11th century until 1850, is a huge local recreation area, you can always go hiking or have a mountain bike tour in the woods.
Make sure to spend your evening outside, in the little "Schanigärten"of restaurants and bars or just relax togther with friends and some  BYO beer sitting at the Donaukanal: Just enjoy the beauty of summer in the world's most liveable city.
ACs are also a trend in Austria
There's good news for all heat-affected people. As the summers in Vienna get hotter and hotter, more and more new buildings with central air conditioning are being built. Nearly all restaurants and cafés now have air conditioning, and also public transport has also been equipped with air conditioning in recent years. Nevertheless, old trams and subway cars without air conditioning are still in use.
In the meantime, Austrians are also increasingly opting to install air conditioners. Both in private apartments and offices, as newly built buildings no longer have the thick walls and the ACs now work much more efficiently and therefore consume very little electricity.
If you want to install an air conditioning system in your apartment, you should ask your landlord for permission. He may not only give his permission, but if you're lucky also bear the costs of the installation.