The Fiaker: A Taxi With Tradition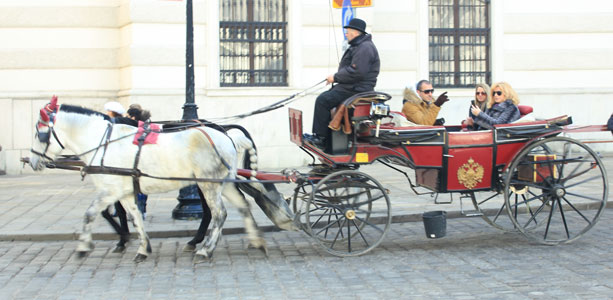 No matter how heavy the traffic in modern Vienna, there always is room for the horsedrawn cab known as the Fiaker. The German word " Fiaker' refer to both the two-horse cab itself and to the cabby, who is generally dressed in pepita-check trousers, a velvet jacket and derby hat.
Once the fiakers were Vienna's taxi transport, but today they are mostly popular for special ceremonial use and as a tourist attraction. Fiaker ranks are near the Imperial Palace, the State Opera and beside St. Stephen's Cathedral. The well-kept vehicles and their picturesque drivers add an attractive bit of color to the Vienna street scene.
The fiaker cabs have a long history, which is recorded in the Fiakerhaus, a building that has belonged to the profession for a century. It now houses the fiaker museum and is located at Veronikagasse 12 in the 18th district.
The fiaker cabby has long been a respected person. In the museum, for instance, there is an oil painting showing the famous Aschenbrunner driving Czar Nicholas I of Russia through the gates of the Ballhausplatz in a fiaker.
The name fiaker actually comes from Paris, where cabs for hire were lined up outside the Auberge Saint Fiacre, an inn whose portal was decorated with a painting of the Irish monk, St. Fiacrius.
The system of putting cabs for hire was introduced there in the 17th century by Nicole Sauvage, and before long, cabs were plying for trade in cities all over the Continent. Elsewhere, other names were developed for cabs, but in Vienna they have always been called fiaker.
The first Viennese fiaker license was issued in 1693 during the reign of Leopold I. It specifically forbade cabbies to undertake journeys of more than four miles out of the city. Not until 1822 was this strange restriction lifted, but even then, no traveler could hire a cab without presenting proof of identity. There were other rules too. For instance, no passenger was permitted to carry a torch or lamp through a town or forest unless it was extinguished.
Every applicant for a fiaker license had to show that he had been in the transport trade for several years and that he knew how to drive. He also had to own a reasonable amount of property and be of good character. At the same time, he was not permitted to be associated with any other form of commerce, and he was exempted from military service. Clearly, driving a cab was considered a position of great responsibility and importance. Widows of cabbies were permitted to carry on their late husbands' business, to which they could take full title.
If a cab owner refused to accept a fare, he was liable to 48 hours behind bars. An employee was punished ten lashes with a birch branch. Smoking during a journey was forbidden. Overcharging was punishable by confiscation of the fee plus a 5-guilder fine or by 24 hours in jail for a cab owner – or a birch whipping of an employee.
Until the introduction of fiaker cabs in Vienna, the normal way of carrying Viennese who did not own a carriage was by sedan chair. The traditional cry of " Trag ma Euer Gnaden? " ( " May I carry you, Sir ") is still the fiaker driver's announcement of the availability of his cab.
Since a ride by a fiaker was anything but cheap, it was seldom used by ordinary Viennese. Realizing this, an enterprising citizen named Zeisel put covered coaches with benches for 20 people into service. Three coaches were inevitably nicknamed " Zeiserlwagen " and represented the first attempt to provide a means of mass transport for the public. Eventually, these were replaced by horse-drawn and then electric streetcars.
Today, a traditional use of the fiaker by the Viennese is at Confirmation, when youngsters are brought from St. Stephen's to the Prater amusement park by horse-drawn cabs. They are frequently used to transport wedding parties.
A fiaker ride is almost obligatory for the visitor to Vienna. Each cabby is well-versed in local history and is always delighted to tell visitors stories of the buildings they pass on their horse-drawn tour of his beloved city.
Source: Austrian National Tourist Office