Three great European cities as destinations for daytrips from Vienna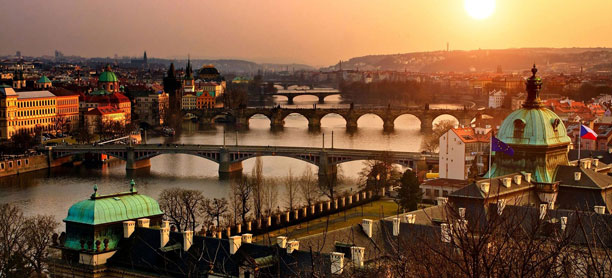 Thanks to its central location within Europe, Vienna is a great spot to travel from if you intend to visit neighboring countries like Hungary, Slovakia, or the Czech Republic. While these countries and their capitals have some shared history between them, they are all unique in their vibe, architecture and way of life. Here's a selection of three European capitals you can reach easily from Vienna for a day- or weekend-trip.
Bratislava
The capital of Slovakia is quite literally just around the corner from Vienna, all it takes is a little trip along the Danube to get there. This history-heavy place used to be an important city in the former Habsburg monarchy and is home to a beautiful old town featuring medieval towers and all sorts of historical buildings. There are plenty of museums to visit as well and in between activities, you'll find lots of nice little cafés and restaurants in picturesque spots and prices are generally a little cheaper than in Vienna. There are several options to get there with the ferry (75 minutes, around 20-30€) being the most beautiful one, especially during the summer months. There are also trains (running about 60 minutes from 20€) and buses (60 minutes, around 15€) available and you can easily drive yourself, depending on traffic, allow about an hour to get there.
Prague
With about three and a half hours between them by car, Prague might be a little bit of a stretch for a daytrip, but it is possible and definitely an amazing option, more so if you got a night to stay there as well. Prague used to be one of major cities in the Habsburg monarchy and still has an astonishingly well retained old town as a reminder from this period of time. The notoriously delicious Bohemian cuisine and the legendary Czech craftsmanship in brewing beer make Prague a top location if you enjoy a hearty meal and a nice cold one. Top that with a vivid art scene and a lively clubbing crowd, and you'll find yourself in great European capital with heaps of things to do. You can get there easily from Vienna by bus (about four hours, around 25€) or train (four hours, starting from 19€).
Budapest
Budapest, the capital of Hungary, provides a marvelous sight with plenty of historical buildings positioned along the banks of the Danube, which traverses the entire city. With tourists from all over the world coming in, Budapest is a busy place all year long and has grown into one of Europe's finance capitals as well. You'll find a great mix of modern and historical architecture, wonderful museums, cafés and restaurants, and get the chance to enjoy a relaxing day in Budapest's famed bath houses with heaps of thermal springs around the city. Come summer time, the islands situated within the Danube are a great spot to visit with plenty of art and music festivals going on. It takes about three hours to get to Budapest from Vienna by train or bus and you can expect tickets to set you back about 20-30€.