Tichy vs. Greißler – Who has got the best ice cream in town?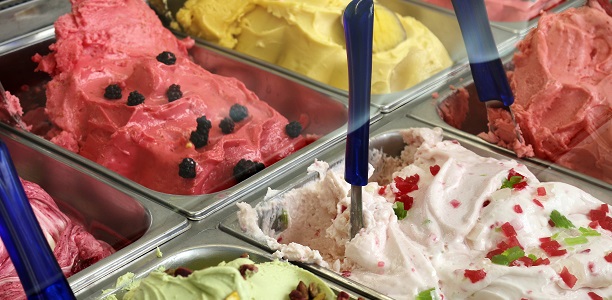 The cool dessert has frequently become a hot topic again. Where do you get the best ice-cream in Vienna, oh where? Obviously as long as taste is involved there is no such thing like, the best. In Vienna there are the Greißlers-fans, the Tichy-lovers and the folks, who have their own secret space, where you can get the best ice-cream. Truth is, that Vienna is blessed with many ice-cream parlors, who are all capable of fully satisfying your hunger for frozen candy. Nonetheless we have provided a list of exquisite ice cream parlors, which all are in consideration of being the best ice cream place in Vienna. If you really want to find out, you have to find out yourself and we wish you a delicious journey.
Eis-Greißler
If you ask the people in Vienna, where to get the best ice cream, you will receive multiple answers and as far as we could experience, any of them are worth a try. But the one everybody mentions, is Eis-Greißler, located in Rotenturmstrasse in the inner city. Eis-Greißler has long been the underdog ice-cream parlor, right in between Zanoni & Zanoni's and the Eissalon Hoher Markt, but in recent years it has gained immense popularity. Aside from special flavors like Goatcheese-Blueberry, or honey-petals their products are completely organic without additives. Eis-Greißler even offers vegan and lacto free flavors. But not only are their rather exquisite flavors worth a try, the fresh ingredients – no matter if fruit, vegetable or (soy-milk) – give the ice unique naturally taste, which makes up for the time you have to wait in line. In the meantime Eis-Greißler expanded additional parlors in Graz and in Mariahilfer Straße, so you don't have to miss out on the delicious ice cream, while shopping.
Eis-Greißler
Rotenturmstraße 14, 1010 Vienna
Mariahilfer Straße 33, 1060 Vienna
Sporgasse 10, 8010 Graz
Eissalon Tuchlauben
It's all about the atmosphere at Eissalon Tuchlauben, with its chic, cozy, but rather small interior, right next to the Graben. Actually it's all about the ice-cream, whilst others are going down an experimental route, when it comes to flavors Eissalon Tuchlauben is focusing and exceeding in the basics: Vanilla, Straciatella and the specialty Nougat. Its prominent location right at the center of the city, makes Eissalon Tuchlauben very popular with tourists, which leads to longer waiting periods, but it is definetly worth a visit. Eissalon Tuchlauben is your place to go, if you are looking for a pure, simple but devine ice-cream experience.
Eissalon Tuchlauben
Tuchlauben 15, 1010 Vienna
Ice Dream Factory
The stakes are high, if you call yourself a dream factory, but this unique and stylish ice-cream parlor in the seventh district lives up to its name. Factory is just the motto of the interior design, which is inspired by New York factories, with massive dark wood, big windows and a retro atmosphere. The work-philosophy of the Ice Dream Factory on the other hand could not be more non-factorial. "Homemade to the Max" is the motto and a range of delicious (and mostly organic) ice cream flavors, made directly behind the counter, is the product. Flavor titles like "Mother's Nightmare" or "Killing me softly" sound sinfully inviting, don't they?
Ice Dream Factory
Burggasse 68, 1070 Vienna
Tichy
Tichy is probably Vienna's most famous ice-cream parlor and popular final destination of many lazy Sunday afternoons. Some say it's the best ice-cream in Vienna and absolutely worth, driving out in the 10th district, but not everyone is convinced. If you have a sweet tooth, you are definitely going to have a good time, because Tichy ice – cream is generally sweeter than most others. Klaus Tichy, the owner, has his own unique ice cream recipe, which will provide you with a taste, you've never experienced before. He manages to redefine common flavors like vanilla, blueberry or hazelnut. Tichy also invented its famous "Eismarillenknödel", some sort of iced apricot dumpling, which is a category of taste itself. Love it or hate it, Tichy offers a way to experience, like you never did before and if you are into ice-cream, there is no way around Tichy.
Tichy
Reumannplatz 13, 1100 Vienna