Vienna City Council Elections 2015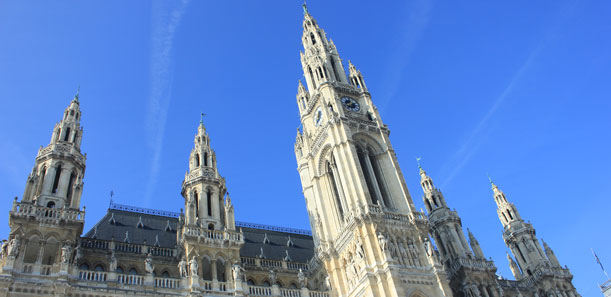 As you probably already have recognized, it is election time in Vienna and politicians of all parties are smiling from billboards and posters all over the city. The elections will take place on Sunday, 11 October and decide about the distribution of 100 seats in the City Council as well as the seats in the district councils. Before we give you a quick overview about the main parties, it is important to clarify who is eligible to vote.
Who can vote?
All Austrian citizens who were born before 11 October 1999 and have had Vienna as their primary place of residence before 4 August 2015 are entitled to vote for the City Council as well as the district councils.
In addition to that EU citizens are entitled to vote for the district councils, but not for City Council due to its function as the Viennese Provincial Parliament. Citizens of third countries may not take part in the elections.
and how?
People who are entitled to vote should receive an official election information around two weeks before the election via post. This short letter informs voters of their electoral ward (Sprengel) and their actual polling station (Wahllokal). It is advisable to bring the letter with you on Election Day in order to simplify the validation process.
If you can't vote personally, you can apply for a voting card with which you can cast your vote by post. Postal votes have to be sent or handed in until 5 pm on Election Day at the latest.
and whom?
No one can and should make that decision for you! We have tried to examine and describe to political landscape in order to make political processes easier to understand. Vienna has been a "red" city since World War II and only twice in that time they have failed to reach a majority of voters. Currently they are in coalition with the left winged Green party. Mayor Michael Häupl has been in office for nearly two decades and is considered a "powerhouse" for the Social Democrats (SPÖ). Their biggest rivals is the populist right winged Freedom party (FPÖ), who has been experiencing strong gains in polls and other regional elections. Freedom party leader Heinz – Christian Strache is Vienna's oppositional force and Mayor Häupl's biggest Rival, with Häupl refusing the possibility to collaborate with the right winged FPÖ in general.
For the Social Democrats (former "Worker's" party – SPÖ) Vienna has always been their strongest foot, also nationally and therefore the outcome of the Viennese elections could have a vast impact on the next national elections, in which the SPÖ is currently the bigger party in a coalition with the Austrian Conservative party (ÖVP). The Democrats are the more liberal one of two left winged parties, the other being their current coalition partners the Green Party. Häupl has been a "people's" mayor from the start and was praised for improving infrastructure and life quality in Vienna. Dealing with the city's growing population in terms of housing, while managing (reducing) the city's debt and not raising unemployment rates are going to be Häupl's biggest challenges in gaining the voter's favor once more.
The Freedom party (FPÖ) under H.C. Strache is promising to take care of Austrians first with an anti-European Union and immigration attitude. With Slogans like "Foreign in your own country?" they aim for the Democrat's working class voters. Especially foreign-born Viennese citizens (1/5th of the population) see a threat for their jobs and homes through an open immigration policy and are turn to the Freedom party for solutions.
The Green Alternative – or the Austrian Greens are sailing under the flag of direct democracy, nonviolence, ecology, solidarity, feminism and self-determination. Their current candidate Maria Vassilakou is Vienna's Vice Mayor. Her team has been working with Mayor Häupl's cabinet for the past period to fight for a more sustainable and affordable living in Vienna. They have succeeded in making Vienna more bicycle-friendly and grew a citywide consciousness towards pollution and new and innovative ways to develop and create.
The Christ democratic Austrian People's party, which has been a major force in national Austrian politics. The conservatives represent the "center" of Austria and values stability, responsibility and tradition for social order. Financially the ÖVP stand for a form of economic liberalization and seek a reduction of the large public sector, welfare reform and a general deregulation. The conservatives believe in the course and the cause of the European Union and support the European answers to topics like immigration.
ANDAS is a leftwing alliance between the Communists, a subgroup of the Greens, the Young Greens and the Pirates. They aim for a position as a left-opposition in the city council.
NEOS – the New Austria proclaims itself as the liberal party of Austria and is a young and modern oriented party. Autonomy, liberalism and a more efficient way of ruling is their claim.