From wakeboarding to skydiving – activities in and around Vienna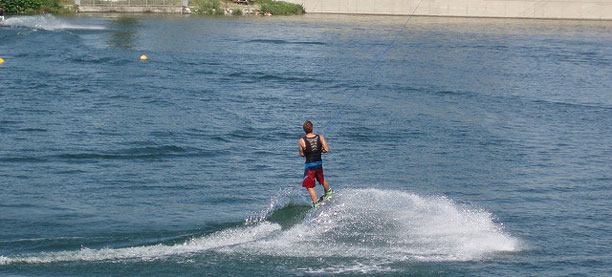 Although one might be thinking of visits to museums, classical music concerts and historic sights first while contemplating stuff to do in Vienna, there is a wide variety of amazing things to do for the more active visitor or expat. Whatever trending sport or extreme sport you might be interested in, Vienna and the area surrounding offer amazing opportunities to pursue any activities you might be after.
Wakeboarding
Wakeboard Lift Wien
Located near the Donauinsel, Vienna's own wakeboard lift is a popular hotspot during the summer months. On a stretch of 832 meters, you can try wakeboarding and waterskiing, whether you are a pro already or looking to take a beginner course. The lift is open from June to August every day from 10 am to sunset. Courses run two hours and cost 64€. It is easily accessible with public transport from the U2 subway station Donaustadtbrücke. All necessary equipment can be rented on site.
www.wakeboardlift.at
Skydiving
Skydive Bratislava, AFF course in Wiener Neustadt and Indoor Skydiving Vienna
Skydiving is growing in popularity all over the world and Austria – and Vienna in particular – is no exception to this trend. You can enjoy the scenic view from above as you go for a tandem jump from Vienna's twin city Bratislava, which is just a 50 minute journey away. If you are beyond the point where a tandem jump will provide you with enough excitement and are looking to become a certified skydiver, you can look into training in the AFF program (accelerated free fall) just 40 minutes from Vienna at the dropzone in Wiener Neustadt. If you are still a bit anxious about dropping out of a plane but would like to enjoy the sensation of free falling, the indoor skydiving wind tunnel WINDOBONA, located in the Prater in Vienna's second district, might be an interesting option for you. Making use of one of the world's most modern recreational wind tunnels, you can make your first steps into the world of skydiving or practice your freefall skills if you're on your way to becoming an accomplished skydiver.
Skydiving in Bratislava
WINDOBONA Indoor Skydiving
Skydive Vienna
Rafting in Vienna
Wildwasseranlage Donauinsel – Vienna Water Sports Arena
Vienna's Donauinsel, a prime location for Viennese people to enjoy all sorts of wonderful summertime activities, got its own artificial water sports arena in 2013. On a course stretching over 250 meters, which can be adjusted to meet various difficulty levels to meet the needs of water sport enthusiasts of all skill levels, you can pursue whichever water sport you are into. Whether you are into rafting, kayaking or standup paddling, there are courses available catering to all skill levels. Kayaking courses range between 25€ and 100€, while rafting runs 45€ for a 2+ hours session. The arena is easily reachable via public transport (subway U2 and bus 92B).
www.viennawatersportsarena.at
Kitesurfing
Neusiedlersee, Burgenland
The Neusiedlersee (Lake Neusiedl) in the district of Burgenland, reachable from Vienna in around an hour, is Austria's largest and windiest lake and makes a perfect destination to pursue sports such as kitesurfing or windsurfing. If you're just starting out, multi-day kitesurfing courses are available from 229€ at the local kite school. For the proficient kitesurfer, there are advanced courses and if you hold a license, you can also rent equipment and go out by yourself.
kitesurfing.at
---
Image: Aline "Blue" CC BY-NC-ND 2.0