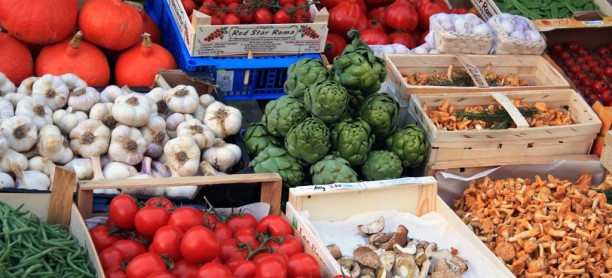 Whole food and Vegan in Vienna
The decision to take a more healthy and conscious approach is not just trendy one, but has the potential to change your whole life. "Bio"- and Fair-trade labels can be found in various forms in every supermarket around the corner, but the commercialization of a conscious lifestyle is something that raises skepticism. Are these the labels you can trust? People who have chosen a healthy lifestyle tend to trust small and familiar stores, rather than big chains.
Austria prides itself with its high food standards and spending a good amount of money for nutrition is part of the country's tradition. Especially in the rural areas, Austrian people often prefer regional products, despite a higher price. In a big city like Vienna it's not as simple to get products from your trusted local farmer, to ease your search for whole food and fair trade products we have gathered a small list of shops.
Reformhaus
"Reformläden" or "Reformhäuser" are whole food super markets, which aren't in a franchise but offer similar healthy products and vegan alternatives you cannot easily find in supermarkets. Especially in the inner city districtsy, they can be found quite frequently.
A list of Reformläden can be found here.
Ordering Vegan
What's better than ordering delicious Indian on a lazy sunday? We have gathered a few addresses, that let you maintain your vegan diet, even on lazy sundays:
Bioläden – Whole food shops
Biofood from organic farming can be found in one of Vienna's many "Bio-Läden" (Bio-Store), much alike Reformhäuser, these small shops offer a variety of healthy and organic products, but are often more specialized. They usually offer products and delicacies, which come directly from regional farms, or are produced in fair-trade.
If you are looking for regional and traditional bio food, Firmann's Bauernkörberl in the 7th district is the location of your choice. They provide beautifully arranged baskets with fruits, vegetables of the season combined with specialties from Lower Austria. In addition the owners Andrea and Harald Firmann are happy to explain customers the origins of each and every product.
Firmann's Bauernkörberl, Neubaugasse 37/4, 1070 Vienna
Naturkost Spittelberg offers organic's finest, with a concept as Firmann's the small store offers more exquisite products like cold-press coconut oil, vegan cevapcici or vegan ice-cream. Naturkost Spittelberg is a curio cabinet, where small treasures can be found.
Naturkost Spittelberg, Spittelberggasse 24, 1070 Vienna
Makro1, with its more than 20 years of existence is not just Vienna's eldest organic restaurant/shop – concept, but also a statement that a healthy lifestyle is more than just a trend. With a lot of love for nutrition and food, the small venue right in the center offers a vegan lunch menu and healthy take-away products next to organic products for the every-day-life. (Lunchtime: 11:30 – 14:30)
Makro1, Fleischmarkt 16 im Hof, 1010 Vienna