Winter in Vienna – Part 1: Sports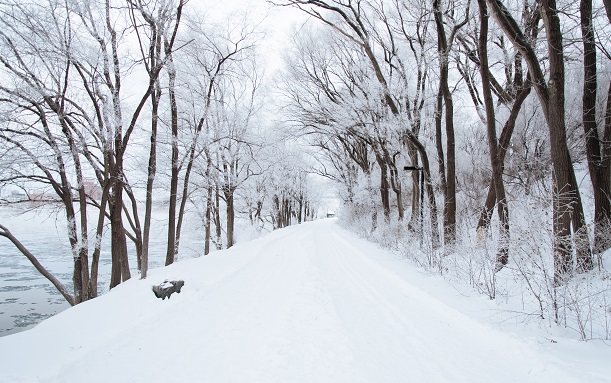 Whilst the mountains were dearly missing it, winter has had Vienna in its softly white grasp already. In reaction, you might have unpacked all your blankets and the mere thought of taking the trams and busses gives you shivers. But don't underestimate the pleasures of wintery Vienna, indoors as well as outdoors. We have gathered some winter-only activities to help you appreciate the cold season, despite the frost. In our first part of Winter in Vienna we cover some unique and traditional wintersport activities:
Ice Skating
Whilst the rest of Austria is all about skiing, Vienna's famous for ice skating. Every year from late January to March the Town Hall Park is turned into the 'Wiener Eistraum' – an ice rink crowded with skaters from early morning until late at night.
If you prefer a rather unusual location, Engelmann – a supermarket in the 17th district – transforms its roof into an open air ice-rink.
Cross country skiing
If you prefer boards to skates and long distances to fast circles, cross-country skiing is the right thing for you. It takes only 20mm of snow in order to create cross-country tracks. There are multiple options to rent out the equipment, which should not cost more than €10 to €20 per day. If the conditions are ideal the city offers eight different tracks at:
2nd district – Prater Hauptalle
10th district – Wienerberg
14th district – Steinhofgründe
17th district – Schwarzenbergpark
19th district – Cobenzl
21st and 22nd district – Donauinsel
23rd district – Pappelteich im Maurerwald
Downhill Skiing
Despite the low altitude of the city, there are two areas for skiing in Wiener Wald in the west of the city. Compared to the ski-resorts in the mountains of Austria both areas are small and simple with one draglift and a slope, but it is enough for one afternoon of fun, especially for beginners.
For a real skiing experience one must be willing to leave to city, but within the distance of a short drive there are multiple options.
Looking for less sporty and more cultural winter activities? We will cover the divine and calm pleasures of winter in our next blog update.