English Cinemas in Vienna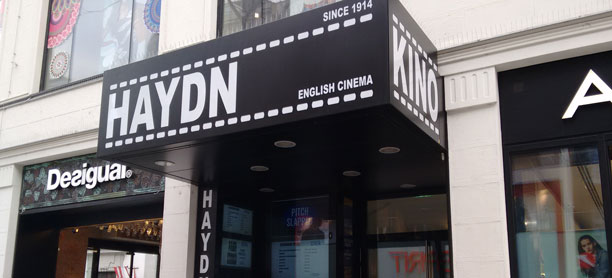 Insufficient German language skills are no reason why you should miss out on enjoying the latest flicks on the big silver screen. Being a multicultural melting pot, Vienna has numerous international cinemas up its sleeve, which show Original Version Films with or without subtitles. There is a wide variety of places that show everything from golden oldies to the latest blockbuster, as well as art-house films – there is a cinema for every taste.
Haydn Kino
Founded in 1914, the Haydn is one of Vienna's oldest family-run cinemas. Located at the central Mariahilferstraße, it is comfortably reachable by U-Bahn (U3: Neubaugasse) or Bus (13A: Neubaugasse/Mariahilferstraße).
Since 1995 the Haydn shows exclusively OV-film without subtitles, mostly major Hollywood productions.
With its reasonable prices and nostalgic charm this cinema has gained quite a reputation among Viennese film-lovers.
English Cinema Haydn
Mariahilfer Straße 57
1060 Vienna
+43 1 5872262
www.haydnkino.at
Artis International
This cozy little cinema in the heart of the first district offers English OVs without subtitles. The cinema's program mostly consists of the latest Hollywood blockbusters and children's films.
Also it is a little bit hidden and may be hard to find on the first visit it is easily accessible by foot from major U-Bahn-stations such as U3: Stephansplatz and U4/U1 Schwedenplatz.
Artis International Cinema
Schultergasse 5
1010 Vienna
+43 1 535 65 70
www.cineplexx.at/center/artis-international
Burg Kino
This classic cinema really earns the title "movie theater". Its foyer, the big cinema hall with loges and comfortable seats covert in red velvet give the Burg Kino a highly nostalgic feeling.
The Burg Kino offers a quite diversified program and is a little bit more on the sophisticated side. Aside from selected Hollywood production it also shows international documentaries and art-house films.
All films are Original Versions, some with German subtitle.
In addition to the regular program there are three extra weekly shows of the 1949 classic "The Third Man", a movie filmed in post-WWII Vienna, which is almost treated as a local sanctum.

Burg Kino
Opernring 19
1010 Vienna
+43 1 5878406
www.burgkino.at
Votivkino & Cinema De France
Both cinemas, which are actually run by the same owners, focus on European movies, meaning they are the perfect places to enjoy the latest French, British or German flicks.
While the Votivkino shows all films as Original Versions with German subtitles, the De France also offers shows without subtitle as well as German dubbed versions.
Being located closely to Schottentor und the university's main facilities, especially the Votivkino is very popular with students, which gives it an alternative and somehow hip air.
Votivkino
Währinger Straße 12
1090 Vienna
Cinema De France
Schottenring 5
1010 Vienna
+43 1 3173571 (Votiv)
+43 1 3175236 (De France)
www.votivkino.at
Filmcasino
A place that feels straight out from the 60's. It may not be the biggest or most comfortable cinema around, but it surely is one of the most unique. The façade, the interior and furniture – Everything reminds of an old timey small town movie theater.
The program offers mostly off-mainstream art-house productions you may not find in any other cinema in Vienna. All movies are OV, some with German subtitles.
Twice a year the Filmcasino hosts the /Slash film-festival for international horror B-Movies. A fixed date for lovers of occasionally involuntarily, humorous gore cinema.
Filmcasino
Margarethenstraße 78
1050 Wien
+43 1 587 90 62
www.filmcasino.at