Expat Interviews: Vera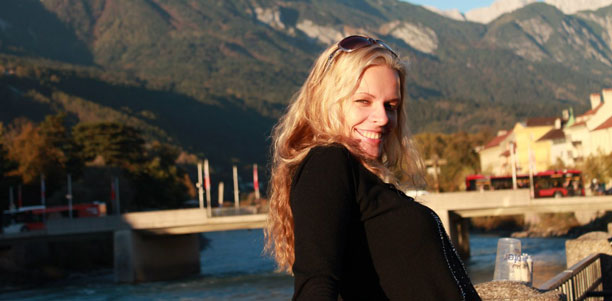 Vera is a Russian expat who moved to Vienna after she fell in love with the city while on vacation.
Name: Vera Gruber
Born: DDR (grew up in Russia)
Age: 31
When did you move to Vienna?
I moved to Vienna in October 2013… so it's two and a half years already.
Why?
Because I was head over heels in love with Vienna.
…how come? Had you been here before?
Yes, I had been here before as a tourist and I knew a guy from Austria, we had some kind of relationship for a certain period of time, so he showed me the country and the city and everything. The relationship didn't work out but I got somehow obsessed with this idea that I have to make it here. It took me a lot of time to find a way because of substantial paperwork and expenses that you have to go through as a non-EU citizen. –
So you moved for this guy?
No, I didn't move for this guy. I moved because I was in love with the city.
What was the longest period of time you had spent in Vienna before you moved here?
Actually, a couple of days. But I was always getting depressed when I got back to Russia and I thought 'Agh, Vienna is so beautiful and I feel at home there and I just have to find a way somehow'. For sure I thought that maybe it's just the feeling of vacation, the City Center, everything looks so beautiful, the people are so nice… But I was prepared that if I started living here I would face a different reality.
What was your favorite thing about Vienna?
Every time I come to a new city or a new place I sense the atmosphere, the mood of the city. I can't find the right words for this, but it's the feeling of comfort. It's a feeling as if you try something on and it fits perfectly and it doesn't matter how much it costs any longer- you just have to have it.
Ok. Do you feel the same way about it now?
Yes, I do. The longer I live here, the deeper this feeling grows. And with learning the language you get deeper and deeper and every time I get to the city center I just admire. I can walk for hours all by myself in Vienna.
So what was the first thing you did when you arrived, when you finally managed to move here?
I had a couple of days before I had to start all the procedures with the Magistrat and all the "Behoerde", so I guess I went to Prater. Just for a walk, because I like the place, because it makes me feel comfortable. I just walked around testing this feeling that you don't have to go back now, that you can stay longer, that you have at least one year to try and to enjoy everything. And I think I felt that a little bit of the charm was lost because it's there already, you know what I mean?
Yeah, now you have all the time in the world…
Yes, yes, yes.
Did you know anyone when you moved?
Not really. I was quite lonely. I used the help of an agency to move here and I didn't like the accommodation that they found for me, I didn't like the neighbors a lot… it's not that they were bad, it's just that they were very young girls, ten years younger than me and I felt a little bit strange.
Was it a WG or….?
Officially it was a dormitory, but it was more like a WG, yes.
So how did you make friends?
There is a community called Internations in Vienna. My friend told me that there is such a community and I started going out, I signed up for the updates and everything, I made a couple of friends there and I also started making friends in the German course.
So it wasn't hard to meet people and stuff?
Actually if you ask me if I want to do the same thing again, I would say 'No'.
Why not?
Because it's like you start from zero. Because it's not the first move in my life… I changed the city and I changed the country, but I don't want to lose the connections that I established by now. And every time, the older you get the more concerned people are getting about letting you in. Or they don't even consider that they need new friends, because they already have an established friend circle and you are not always welcome. And you come with a different background and everything so… I think it would have to be a very special situation for me to do something like this again.
Are your friends mostly expats or Austrians?
Mostly expats. But my husband is Austrian so all his friends are now a part of my friend circle, not close friends but still… I am not so isolated from Austrian communication.
What was the hardest thing about moving to Vienna?
It was finding a way to make money while not working in Austria. So the hardest part was in Russia, because I worked for a large retail company as a personal assistant to a CEO and I thought what else I could do for this company, not sitting in the office. And then I realized that we don't have a translator and we needed one. So I talked to my boss and I told him 'Ok, I have such a crazy plan in my head, I want to study in Austria, and we do not have a translator in the company and I could do this job from anywhere.' And he agreed.
That was really nice! Do you still work for him now?
I still work for this company. And I still translate. Sometimes I have a lot, sometimes I have almost nothing, but if I get a message at 11pm, I reply. Because I appreciate the opportunity.
That's great, because you can probably also travel pretty much anywhere and still work and earn money.
Yes, I do.
Jealous.
Don't be because I get paid in Rubles. Which means that my salary got cut in half since I moved here because our currency dropped significantly. So you depend on your country and your currency, because you have to buy Euros. There are advantages and disadvantages.
How did you cope with the language? Did you speak any German when you arrived?
My German was at the level of "Hello, my name is Vera. I come from Russia". I had an idea about grammar but just an idea. It was a huge effort to make a sentence.
And how did you find the German courses? Where they difficult, were they easy?
They were not difficult but the problem was that we were sometimes too many people in the German course. I didn't have much choice, because if you are a University student you have two options: you have quite a cheap German course or quite an expensive German course and nothing in the middle and if you ask people about it, they say that it always depends on the teacher. So I picked the cheaper option and yeah… it always depends on the teacher.
So where did you take the courses?
It's the Orient Gesellschaft. They have a contract with the University. And all the University students who have to take the B2 exam have to go there first. And, say, 90% go there.
Was it an intensive course?
Every day for three hours. I would say two and a half because of the breaks and everything.
How is your German now?
I would say that it's OK for everyday living, for meeting people and understanding or watching movies and understanding 85-90%, depending on the movie and how much they talk and what the topic is. I passed a B2 exam, but when I started looking for a job and meeting recruiters they said that my speaking is more like C1. Which I think is not true to be honest, because I always mess up articles and if you mess up the articles everything is messed up. Or for example, word order in a German sentence is very different from the one in a Russian or English sentence, and I mess up … I know it's not as important, but if you make these mistakes, you don't sound proper. But I don't have to think before I talk any longer. And sometimes I have a German word in my head and I forget what the English one is. In the beginning everything was in English and I thought in English, but now it kinda switched to German instead.
Did you do anything extra during your German courses to help you learn faster? Like did you watch movies or series in German or anything like that?
I tried watching series, but to be honest it was not an enjoyable experience, because I really like watching series, it's the way I relax. And if you watch them in a language that you don't really understand and you always have to concentrate, it's just more stress than enjoyment. But what I did is… I tried to talk German with these friends that I made – on Internations for example – and when I got to know my husband I forced myself to talk German to him. We started in English and it was very comfortable, but I realized that if I stayed in this comfort zone I would have never learnt.
What do you wish you knew when you first moved to Vienna and you know now?
Don't hire an agency, don't pay any agency because the services that they provide for the money that they require are horrible. The services are horrible in comparison to the money that they expect for these services.
So if you had to do it again you would just move on your own and figure things out on your own rather than pay them to put you in a room and so on?
Yes, because I expected that when you pay the money they help you with everything. I thought that I could not do it all by myself and it's really true in a way. Before getting the papers in Russia you have to already have a contract for a place to stay. And if you do not know the market and how it all works, finding someone who would sign the contract for you six months in advance is next to impossible. So I was in a way forced to hire this agency and to work with them, at least for this reason. Later I figured out that I could have contacted dormitories in Vienna on my own and they could have sent me respective documents for the embassy and the visa. I think I would have had a lot less stress doing everything on my own.
What advice would you give to the people who are new to the city or are thinking about moving to Vienna?
Vienna is the most beautiful city in the world. Try to learn German in advance. At least a little bit, the basis. In Vienna you can survive without German, but if you want to have a deeper experience in the country, at least some German will make it a lot better. If you start in advance then you don't feel like a 100% idiot when you come here.
And what do you do now?
I was lucky to find a part-time job as an administrative assistant in a Russian company in Vienna. So now I have two jobs – translation for the Russian company in Russia, and office administration for the Russian company in Austria. In this particular case being a native Russian speaker is an advantage.
Anything else you would like to add or anything you think would be beneficial for newcomers or people who have been living here and still have no idea what they're doing?
I've heard it from different people, especially from expats, they were planning to move to Vienna for a month or two, or for a year or two and they are still here ten years later. For example my ex-roommate, she's a traveler, and she initially came to Vienna for a couple of months from Spain and she's still here almost three years later. And she is saying "Why am I still here? I want to travel the world, but Vienna is just so comfortable to live in!" So if you are planning to come to Vienna for a couple of months or for a year, be prepared that you will not want to leave the city and prepare plan B for staying longer.
Wanna share your story? Write us contact@virtualvienna.net
---
Author: Oana Cornea