Vienna's Baths & Beaches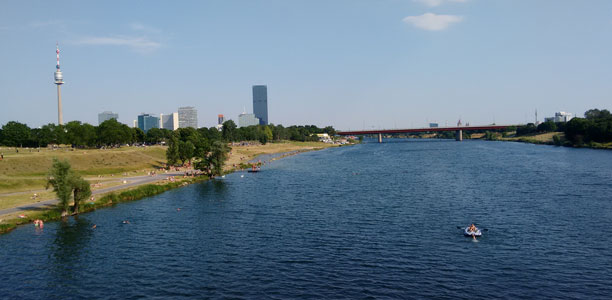 Finally! The summer is back and Vienna's bathing beaches are opening up again. Time to sit in the sun and enjoy that timeless sense of leisure with a friend on a balmy afternoon at the water's edge.
Vienna is a city where the summers seem all too short, so when the warm weather comes, the Viennese are waiting for it. After a long winter, the first warm days bring everyone out on to the streets, tables appear on the sidewalks in front of every Local, and restaurants and cafés open their summer gardens. People throng to the parks, and flowers appear as if by magic in ornamental beds and sidewalk planters, transforming the gray to a riot of color.
In Vienna there are some magical, old world beaches along the Danube that invite you to enjoy the sun and pretend you are somewhere else. Why spend a lot of money on going on a trip when you can receive the same feeling of freedom and holiday only a few tram stations away? So take your swim wear and enjoy the sun. Vienna's Bathing Beaches are open from the 1st May till the endof September, or into October, depending on the weather.
Outdoor pools, open during the summer months
Strandbad Gänsehäufel
A typical Austrian bathing beach created by water from the Donau, and formed a little lake in the middle of the city. There are Vaste Beaches, wave pools, tennis courts and projected nude sunbathings in case someone wants to tan their whole body. There is enough space for everyone to enjoy good weather
22nd District, Moissigasse 21 Tel: 01-2699016 To get there: U1 (VIC) then Bus 90A to Mendelssohngasse
Strandbäder Alte Donau
Several of the oldest outdoor bathing beaches in Vienna. These are not an artificial pools but wide expanses of manicured lawns along the shore of a side channel of the Danube, left by the dredging and strainghtening of the river a century ago. Under massive shade trees, stretched out on the grass and wading on the sand, you can enjoy the sun and the clean,fresh water of the river.
22nd District, Arbeiterstrandbadstr. 91 Tel:01-2636538 To get there: U1 to "Strandbäder," Or "Alte Donau" or to Kagran, transferring to Bus 20B
Donaustadt
All along the Danube you can find endless ways to spend time at the water's edge – stroll along a quaie or sit on a green hillside, walk along a sandy shoreline or dabble your toes in the water, and in most places dive right in for a swim. There are long shaded walks, and boat yards where you can rent sail boats, motor boats or canoes, go water skiing or slide your own boat into the water.
22nd District, Portnergasse 38 Tel: 01-2034321 To get there: U1 to "Alte Donau" Or Strandbaeder, 2 min. walk
Simmeringer Bad
This is one of the biggest pool complexes in Vienna; it has two big ones with slopes and three little ones for children. In all of the five outdoor pools, magical waves give you the feeling of being at the ocean.
11th District , Florian-Hedorfer Str. 5 Tel: 01-7672568 To get there: tram 71 to Central Friedhof
Theresienbad
A traditional Viennese bathing beach. Located right next to Schönbrunn, you are surrounded by old-world tradition in a beautiful part of the city, the 13th district. You have the feeling of summer and holiday pleasures at their best..
12th District, Hufelandgasse 3 Tel: 01-8134435 To get there: U4 till Meidlinger Hauptstraße
Ottakringerbad
Sitting in the midst of of an industrial district with traffic streaming, the Ottakringerbad is an oasis of green, specially insulated from all the noise and bustle, and decorated so that the out side world seems far away. A nice clean pool enables all it's visitors to relax and feel refreshed.
16th District, Johann-Staud-str.11 Tel: 01- 9148106 To get there: U3 to Ottakring, Bus 45B
Schafbergbad
One of the most famous bathing beaches in Vienna. Besides providing entertainment for children, the pool is nice and big and although it holds a lot of people, there is always enough space. And in between, there are little stands selling beverages and shakes, and a restaurant where you can get a very presentable meal.
18th District, Josef-Redl-Gasse 3 Tel: 01-4791593 To get there: Tram 43 to Hernals, then Bus 42B
Krapfenwaldbad
This outdoor facility is on a mountainside, a little bit outside of Vienna, with one big thermal pool and a beautiful view over the city.
19th District, Krapfenwaldgasse 65-73 Tel: 01-3201593 To get there: The Bus 38A until Krapfenwaldbad
Döblingerbad
Similar to the Krapfenwaldbad, this is a place a bit smaller but chilled out. There is one pool and people lay on grass to catch some sun rays.
19th District, Geweygasse 6 Tel: 01-3180140 To get there: Tram 37 to Döblingerbad, 2 min walk
Author: Caroline Mautner Markhof reprinted with permission from Jugendstil, the Student Newspaper of Webster University Vienna, (May-June 2005 Issue) Prof. Dardis McNamee, Editor in Chief and Faculty Advisor.