Vienna – Hits for Kids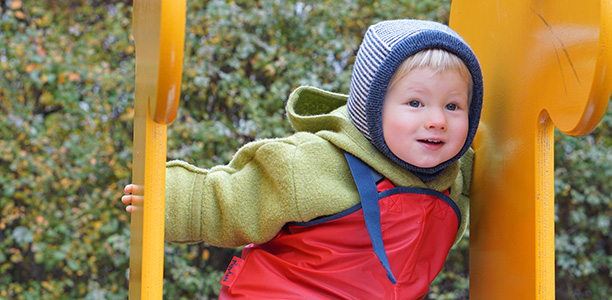 Hunt elephants in an asphalt jungle. Fly the sky in a bouncy castle. Let the wind carry your hair while you ride a pony: Vienna, the romantic imperial city of the Habsburgs, metropolis of arts and culture, is also a city for kids. Action, fun and almost unlimited leisure enjoyment for the entire family.
"Mom, I'm bored!" is the complaint you get from children the world over – even during vacations. But in Vienna there is no time for yawning. "Action, Action, Action!" is the name of the game whatever your age.
And the Austrian capital has plenty of space for all that action. Unlike many other major cities, Vienna boasts huge green areas where children can play to their hearts' content. But that is by no means all. Maybe a little princess would like to dance a minuet in a hooped skirt and old-fashioned bodice? Or a super-detective would like to find some unicellular organism with a special microscope, travel across the starry sky or re-invent electricity? Become a child artist? Discover the senses of sight, hearing, smell and taste in a completely new way? No problem. And it's also easy to stroke some snakes or to design Friedensreich Hundertwasser's KunstHausWien anew. These are just a few of the Hits for Kids.
Action for water rats and climbing fans
The Danube Island is the place for "cool" action on hot days. This Viennese open-air paradise with 42 kilometers of riverside pursuits is the ideal territory for almost every kind of outdoor sports activity: swimming, inline-skating, skate-boarding (halfpipe near Reichsbrücke bridge), street soccer, beach volleyball, basketball, soccer, trampolines, boating, biking and water-ski lift adventures at a weir (Wehr 1). And when the little super champs get hungry or thirsty, they will find dozens of restaurants at the Copa Cagrana (as the lively promenade of the Danube at the "northern mainland" near Reichsbrücke is known) selling cool drinks and inexpensive snacks.
It is cozier and quieter at the Old Danube (Alte Donau). There are no inline skaters racing by. Families sun themselves on spacious grass areas, sit in restaurants near the water or go boating in row boats, pedalos or electric boats. Young aspiring admirals can also take courses in sailing.
There are plenty of other places in Vienna for your little bundles of energy to let off steam. Kilometers of cycle paths through the city, and open grassland and walking trails in the Vienna Woods, Lainz Game Preserve, Lobau and Prater ensure that everybody "keeps moving." And anyone still not tired after all that exertion, can literally climb walls. The 35-meter-high exterior wall of the former anti-aircraft tower in Esterhazy park awaits climbers young and old from Easter to autumn.
Elephant park, crocodile pavilion and a night in the tropical forest
The best place to go for an excursion into the wondrous world of animals is Schönbrunn Zoo which celebrated its 250th anniversary in 2002 (adults: 16.50 euros, children through age 6: free, schoolchildren: 8 euros, tel. +43-1-877 92 94-0, www.zoovienna.at). The world's oldest zoo – yet one of the most modern, too – is a first-rate attraction. Black-and-white fur, huge paws and large round eyes: Fu Long – the "Happy Dragon" – the baby panda bear and his parents have taken the hearts of visitors of all ages by storm. The young bear is the first baby panda to be born at a European zoo for over 25 years. In the Elephant Park, these good-natured giants can be experienced really close up, separated from them only by swinging ropes. A highlight of the zoo is the Aquarium and Terrarium House – with the largest coral reef in Austria, a breeding area for rhinoceros iguanas; a glass tunnel taking visitors through the "Waters of the Amazon", a crocodile hall with African flora; and also an area where one can experience "Night in the Tropical Forest". The Rainforest-House gives you a feeling of Tarzan in the jungle – an adventure for eyes, nose and ears. The Polarium, completely renovated in 2004, is particularly worth visiting. It has given the seals and penguins at the zoo a new home which is even closer to their original habitats.
After visiting animals from around the world and those living in the wild in Austria, children may want to visit an original Tyrolean farmhouse and learn interesting things about keeping pets and everyday life on a farm. This will certainly dispel a child's idea that milk is produced at the supermarket. Children who have grown attached to the animals may want to celebrate their birthday at the zoo. The birthday child and guests will have much fun during a special guided tour and a big birthday party.
Too tired to walk home? Every 30 minutes the Schönbrunn Panorama Train takes visitors back through the palace gardens to the entrance – or to the palace of Empress Maria Theresa.
Visiting imperial palaces
Fifteen siblings and a giant palace as a playground – who would not be envious? Special children's guided tours of Schönbrunn Palace make such a dream come true. They are led through the world of Empress Maria Theresa, who spent her summers in this enormous building with her 16 children. However, at that time it was not much fun for the little ones, as the imperial mom was pretty strict and regulated the life of her children to the last detail. Endless lessons were the order of the day: the children had to learn all the rules of good behavior and master the stringent court etiquette with its profusion of details.
Children who have paid attention during the guided tour may want to turn into little archduchesses or princes afterwards. They can wear baroque costumes with corsets and hooped skirts, dance the minuet and practice a deep curtsy. The curtsy is important if you later want to get an audience with Empress Maria Theresa. (Special guided tours for children aged 6 to 12: 6 euros, tel. +43-1-811 13-239, www.schoenbrunn.at)
A museum has also been opened for young visitors in the apartments of Princess Gisela where young visitors can experience the life of princes and princesses 300 years ago, listening to tales, seeing pictures and even smelling the dishes then served (duration: 1 hour, 6 euros).
How the Austrian emperors and their children actually lived in the main imperial palace in the city center, the Hofburg, and what they did on an average day, can be discovered by kids aged 6 to 10 on special guided tours through the Imperial Apartments of the former residence of the Habsburg emperors. Here, too, they may try on grand costumes and experience imperial life at first hand. (Duration: approx. 1½ hours, 6 euros, accompanying persons: 9 euros, further information: tel. +43-1-533 75 70, www.hofburg-wien.at)
Stroking snakes and watching butterflies
An exciting underwater world can be explored at the Vivarium Wien located in the former anti-aircraft tower in Esterhazy Park (Flakturm Esterhazy Park, 1060 Vienna, Fritz-Grünbaumplatz 1, tel. +43-1-587 14 17, www.haus-des-meeres.at, 9 a.m. – 6 p.m. daily, Thurs. 9 a.m. to 9 p.m.). More than 3,500 creatures from all seven oceans inhabit the aquariums, and you can travel from the North Sea to the Great Barrier Reef in Australia in just 15 seconds – by elevator, over three floors. Colorful fish from tropical waters, crocodiles "Kroki" and "Puppi", and of course the majestic sharks hold a magical fascination for children. Every Wednesday at 2 p.m., a special thrill awaits children when they are permitted to stroke the snakes. Shortly after, at 3 p.m., you can watch the piranhas and sharks being fed (Wed. and Sun. 3 p.m., reptiles Sun. 10 a.m. and Thurs. 7 p.m.).
Children can also marvel at hundreds of free-flying exotic butterflies at the tropical Butterfly House in the Imperial Gardens (Burggarten). One of the most beautiful species on view is the Blue Morpho Butterfly with its shining wings; the largest is the Atlas, who – we admit – is actually a moth. For children who have been especially good, he will open his giant velvety wings during daylight hours as well and convey incredible stories of dark tropical forests and labyrinths with creeping vines and lianas (April to October: Mon. – Fri. 10 a.m. – 4.45 p.m., Sat., Sun, holidays 10 a.m. – 6.15 p.m., November to March: 10 a.m. – 3.45 p.m. daily, children aged 3 to 6: 3 euros, schoolchildren and students: 4.50 euros, adults: 6 euros, Burggarten, 1010 Vienna, tel. +43-1-533 85 70, www.schmetterlinghaus.at).
Dinosaur skeletons & KunstHaus surprise bag
Dinosaur skeletons, fascinating minerals, interesting animals and rare plants: all of this and more can be encountered at the Museum of Natural History, particularly on a special children's guided tour. Aspiring researchers can embark on journeys of discovery through the microscope, study unicellular organisms or simple worms, admire minerals, and learn about prehistoric man – and will surely be impressed at the amount of imagination nature invests in even the smallest details (Thursday-Monday: 9 a.m. – 6.30 p.m., Wednesday: 9 a.m. – 9 p.m., Tuesday: closed, Children and youth unter 19y.: free, Adults: 10 euros, tel. +43-1-521 77-335, www.nhm-wien.ac.at).
A virtually inexhaustible treasure house of ideas also awaits children at the KunstHausWien. Friedensreich Hundertwasser's bizarre and colorful museum confuses visitors of all ages. Children are maybe even more confused (and delighted) because, all of a sudden, they are transported into a world which is, essentially, their own. And, at the ticket office, they get a surprise bag whose contents help them design their own "KunstHaus". Special children's guided tours for groups and by prior arrangement only. (tel.: +43-1-712 04 95, www.kunsthauswien.com)
Klimt paintings and horse-drawn trains
Many of the 100 and more museums in Vienna are also fun for children. The Zoom Children's Museum at MuseumsQuartier (MQ), featuring hands-on exhibitions, close-up encounters of physical phenomena and active discovery of the senses (open daily, varying opening times, info tel. +43-1-524 79 08, www.kindermuseum.at). Even toddlers can have fun here in the "Ocean". Right opposite at MQ there is an info point for children called "wienxtra Kinderinfo" where you are provided with free information on everything going on in the city for 3 to 13 year olds and can spend some time in a specially styled play area (Tues.-Fri. 2 p.m. to 6 p.m., Sat., Sun. & holidays 10 a.m. to 5 p.m., info tel. +43-1-4000-84400, www.kinderinfowien.at[German]).
Modern art usually appeals to children: "He paints like me," is an oft-overheard comment. That's why the children's tours at the Museum of Modern Art (MUMOK) in MuseumsQuartier are so popular. The museum also offers various workshops for children of different age groups (bookings tel. +43-1-525 00 1313, www.mumok.at). The Museum of Fine Arts with the largest collection of Bruegels in the world, the Belvedere with its Klimt and Schiele paintings and a host of other museums also offer special guided tours for children (www.vienna.info).
The Museum of Technology is a world unto itself. Children (free of charge aged up to 19) can playfully gain first impressions of some of the world's technical and natural phenomena. The light-flooded central hall showcases technical achievements of the nineteenth and twentieth centuries, from the steam engine to computers, bearing the theme "Modern Times." The old racing car "Silberpfeil" (Silver Arrow), the first horse-drawn railway "Hannibal", propellers, penny farthing bicycles and a giant crucible used to make steel are all a fascination to little whiz kids. A further key attraction are the high-voltage displays in the energy department. Forty models demonstrate energy in various forms, from muscle power to steam energy and solar energy to atomic power.
However, kids' absolute favorite is "KI" (German for AI), a figure with artificial intelligence, which reacts to the movements of the person it is facing. Whether a child lifts his/her hands or does a somersault, "KI" imitates it. It is difficult to get children away from this fascinating exhibit! Special guided tours make technology fun even for the youngest kids (from 2 upwards). But there are also guided tours taking up school themes such as music, physics, astronomy and bicycles. (tel. +43-1-899 98-6000, www.tmw.at, prices, bookings and information: workdays 9 a.m. – 1 p.m.)
Amusement park, music encounter & star gazing
More than 250 action-packed attractions await children at the Wurstelprater amusement park in Vienna's Prater grounds. They include the Jungle Train with the chirping of tropical birds; the House of Mirrors where Mom looks as thin as a toothpick and Dad as fat as a barrel; pony rides and mini roller coasters where even the tiniest tots screech with delight. There is also the dark and forbidding world of dinosaurs; the fairytale world and the bouncy castle where you bound into the sky with the wind blowing in your hair. With shining eyes and glowing cheeks, happiness is then complete with a large helping of cotton candy and a colorful balloon. (Full details of everything going on at the Prater at www.prater.wien.info. Main season: mid-March to end of October, open from 10 a.m. daily.)
The House of Music demonstrates that music is something to be seen and felt as well as heard. A hands-on journey of discovery through real and virtual rooms on six floors allows music to be experienced with all the senses. The grand finale is the chance for young visitors to conduct the Vienna Philharmonic. But a word of caution: the Austrian musical elite can be quite critical of baton amateurs! (10 a.m. – 10 p.m. daily, every Saturday and Sunday guided tours for children, combi tickets, adults: 12 euros, children under 3: free, children under 12: 5.50 euros, details: tel. +43-1-513 48 50, www.hausdermusik.at).
After so much action, rest and relaxation is called for. "Sit still and pay attention!" is the motto in Schönbrunn Palace's Marionette Theater, at the Niedermair Children's Theater; at the Lilarium; at the Theater der Jugend (Youth Theater) and at the Wiener Kindertheater. The Theater in der Josefstadt now even permits children a peek backstage while parents attend a matinee: the workshop and costumes of the theater can be visited, and they can even try their hand at putting on a little make-up (bookings: tel. +43-1-42 700-359, www.josefstadt.org[German]). Children preferring to gaze at stars in the heavens as opposed to stars on stage can explore the universe at the "Planetarium" observatory in the Prater. In the kids' show "Yanni and the Pebbles from Outer Space" a comic mouse flies to the moon with its parents in a homemade space-ship and experiences weightlessness there in "Mausa" space suits. The one-hour shows "Cosmic Scout" for children aged 10+ and adults, and "Star-Date – Rendezvous with the Stars" for children aged 8+ and adults, project some 9,000 twinkling stars onto the dome of the planetarium, comets hit Jupiter, you see volcanoes and geysers on its moon, and you can fly through the rings of Saturn and follow the planets on their course around the sun. (Information on starting times: tel. +43 1 89 174 150 000, www.planetarium-wien.at[German]) Meanwhile, at the Kuffner Observatory, children may even explore the skies with a historical telescope dating from the year 1886. (Information on show starting times: tel. 43 1 89 174 150 000, www.kuffner.ac.at[German])
Children's Birthday Party
Preparing a children's birthday party can be a total nightmare for parents. Thank God there are professional children's party planners, offering whole party packages including venue, catering and entertainment. The most popular service, Crocodil Events, offers themed parties for kids from 6 to 14 years. From Wild West Parties over Little Princess Parties to Star Wars themed birthdays, there is a party for every taste. (Party venues in almost every district, tel. +43 660 210 444 1, www.crocodil.at [German]). On the website kinderparty.at you can find a list of several children's party providers in Vienna.
If you organize your kid's party yourself: Austria's largest indoor playground BOGI Park offers 3,500 sqm of fun, games and sport for children aged 1 to 12. A giant fun park, fairytale grottos, volcano climbing and a toddlers area provide plenty of family entertainment. Experienced child supervision available. (open 10 a.m. – 7 p.m. daily, children from 3-16: 9.50 euros, toddlers aged 1-2 years: 4 euros, adults: 4 euros; 1230 Vienna, Gutheil-Schoder-Gasse 17, tel. +43-1-23 000 00, www.bogipark.at[German]).
Family Fun is an attraction that offers excitement and action for the whole family. There are simply no limits to your imagination. Here are just some of the things kids aged 1 thru' 12 can expect to find here: jumpy castles, an XXXL slide, a climbing wall, 9 trampolines, a bungee trampoline, a climbing labyrinth, rodeo rides, mini karts, an infants area and much more besides. There's even a lounge and catering for parents too. (Mon. – Fri. 1 to 7 p.m., Sat., Sun., holidays 9 a.m. to 7 p.m., 1220 Vienna, Breitenleer Strasse 77, tel. +43-1-236 70 70, www.familyfun.at[German]).
So, in a nutshell: "Mom, I'm bored!" is a sentence you are unlikely to hear in Vienna.
Even more information, addresses and opening times may be found in the Vienna's Tourist Board's family brochure and at www.vienna.info in the "Specials" section as well as in the event database.
Article Author: Vienna Tourist Board